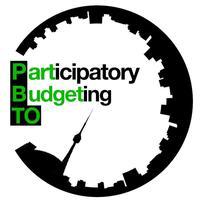 Want to help others get excited about Participatory Budgeting in Toronto?
Register for this workshop and learn how to facilitate a Participatory Budgeting conversation in your community!
Wednesday, May 6, 2015
6:00 – 8:30 PM
City Hall, 100 Queen Street West, Committee Room #4
You will learn tools to lead a #PBTO "Participatory Budgeting 101" Talk that allows people in your community to contribute their own ideas about what they would like to see in a Toronto policy – or Participatory Budgeting: Why we need it, and how we want it to work for us.
A complimentary light dinner will be served (please contact us know if you require any dietary accommodations).
Register here if you are:
– Experienced and/or willing to lead at least two workshops in the coming weeks (by end of June 2015)
–  Active in a community as staff, volunteer or engaged citizen
– Enthusiastic about grassroots, bottom-up community capacity building
– A proponent of values of equity and diversity
Register here