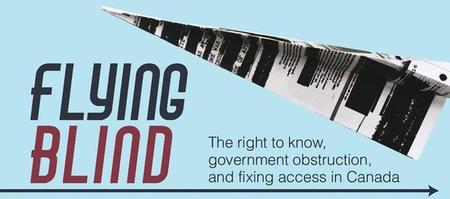 Flying Blind: The right to know, government obstruction, and fixing access in Canada
An informed public is critical to a functioning democracy, but in Canada the public's right to information is threatened.
Our government prevents the gathering of vital information and fails to keep records of the processes used to make important decisions. Where information does exist, access is made difficult and sometimes impossible. Even when information exists and is accessible, too often governments and the private sector prevent dissemination of that information.
Join us for a day of engaging conversation as we look at the current challenges to creating, accessing, and sharing information in Canada, and work to create a path forward. Featuring experts working with the system and advocating for change, the day will provide insights into what needs to be done to permit a truly informed public essential to the future of a democratic Canada.
Panel I: Failing to Create Information
Rob Cribb, Investigative Journalist, Toronto Star
Munir Sheikh, Former Chief Statistician of Canada and currently Executive Fellow, University of Calgary
Maggie Xenopoulos, Associate Professor of Biology, Trent University
Moderated by Ira Basen, Documentary Producer, CBC Radio
Panel II: Difficulty Accessing Information
Dean Beeby, CBC Journalist
Jennifer Ditchburn, Senior Parliamentary correspondent, Canadian Press
Laura Tribe, National and Digital Programs Lead, Canadian Journalists for Free Expression
Moderated by April Lindgren, Ryerson School of Journalism
Panel III: Limiting the Dissemination of Information
Jesse Brown, Freelance journalist and media critic
Peter Jacobsen Media lawyer and founding partner, Bersenas Jacobsen Chouest Thomson Blackburn LLP
Ivan Semaniuk, Science reporter, The Globe and Mail
Moderated by Carolyn Jarvis, 16×9's Chief Correspondent, Global News
Panel IV: We Know the Problems, Now What to Do About Them?
Suzanne Legault, Information Commissioner of Canada
Tom Henheffer, Executive Director, Canadian Journalists for Free Expression
James L. Turk. Distinguished Visiting Professor, Ryerson University
Moderated by Lisa Taylor, Ryerson School of Journalism
---
This event is held in partnership between Canadian Journalists for Free Expression (CJFE) and the Centre for Free Expression, Ryerson University Faculty of Communications and Design. It is co-sponsored by the Ryerson Journalism Research Centre.
---
For more information: cjfe.org/flyingblind
Register here