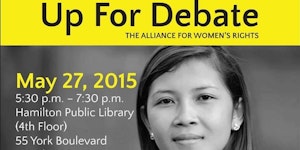 Central Library (Fourth Floor)
55 York Blvd
Hamilton, ON L8N 4E4
Canada
Wednesday, 27 May 2015 from 5:30 PM to 7:30 PM (EDT)
More than half a million more women than men turned out to vote in the 2011 federal election. Yet, the issues that matter to women and girls weren't publically debated by leaders. We want to change that!
Join us on May 27 for Up For Debate, an event that will create dialogue about important issues leading up to the 2015 federal election, while at the same time drawing attention to the lack of focus on women and girls' issues in leadership debates. Among the important issues that will be discussed are:
Ending violence against women
Ending women's economic inequality
Supporting women's leadership and organizations
Ensuring accessible and affordable childcare for all
Stand alongside over 100 women's organizations and their allies by demanding that the issues women and girls care about are #UpForDebate in the 2015 federal election.
Register for this FREE event using Eventbrite.
This event offers complimentary childcare and transportation (in the form of bus tickets). To make arrangements, contact jrose@ywcahamilton.org.